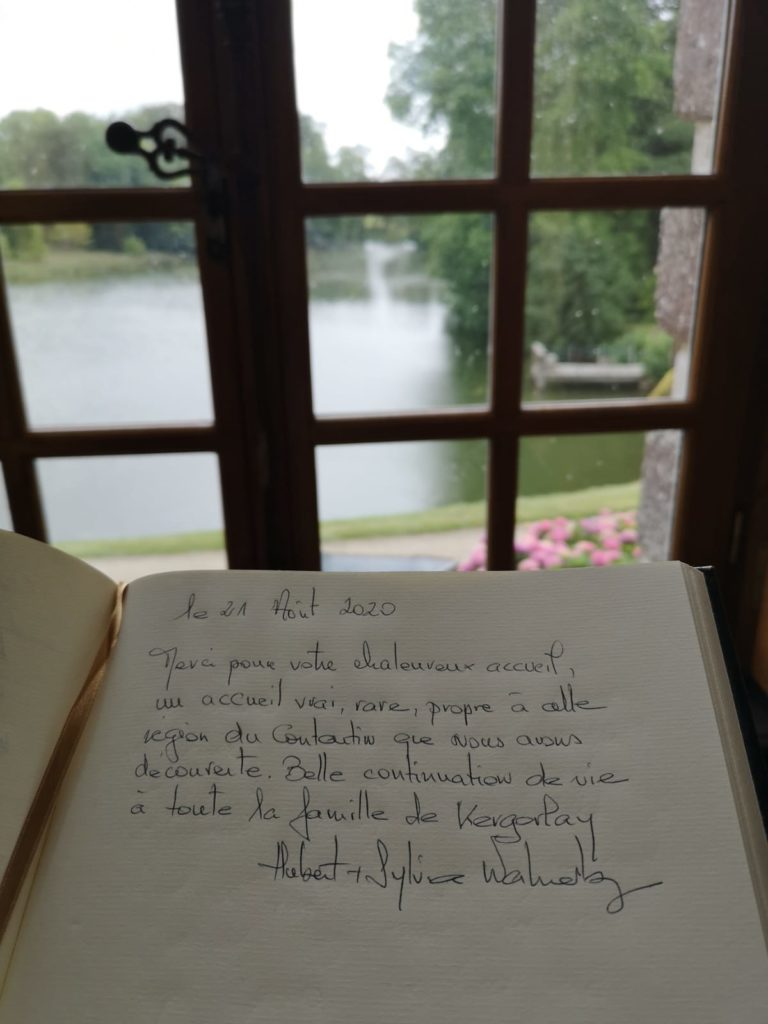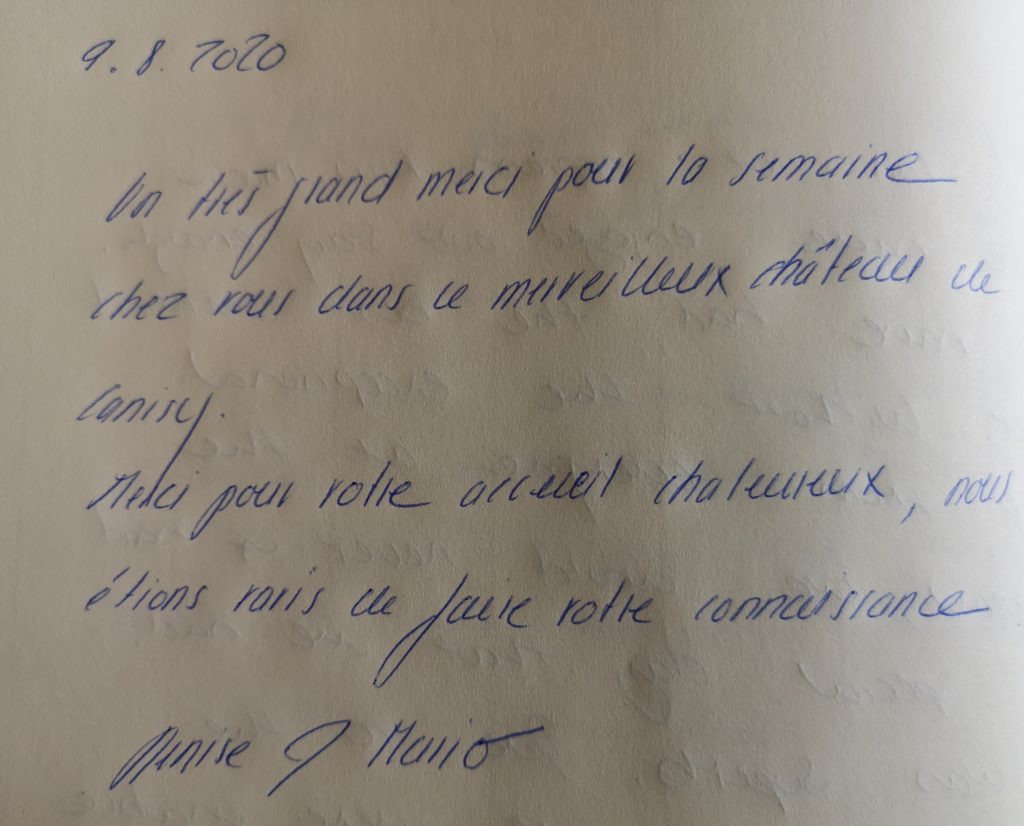 Here, you can find all of the messages from our guests
who have enjoyed their stay at the Château de Canisy.
Livre d'Or : 2020
Septembre 2020,
Merci à l'ensemble des personnes qui ont pris soin de nous.
Un instant privilégié dans un environnement chargé d'histoire.
Nous espérons pouvoir vous rendre à nouveau visite dans un avenir proche.
Encore merci de cet accueil chaleureux!
Familles Piedagnel et Colonna d'Istria
Juillet 2020,
Merci pour votre chaleureux accueil et la délicatesse de vos attentions. Quelle merveilleuse halte de beauté et de calme dans cette belle propriété que vous choyez. Nous avons passé un très agréable séjour. Nous reviendrons…
Xavier Roland
Juillet 2020,
Trois hirondelles joueuses, un paisible hêtre pourpre, un accueil merveilleux, un silence chaleureux. Merci et bravo !
Cédric et Valérie
Juillet 2020,
Chère Comtesse, cher Comte,
Le château et son parc sont magnifiques. Après de nombreuses années à l'étranger en Amérique du Nord, pouvoir vivre une expérience au château est un véritable plaisir. Les lacs, les arbres du parc sont très beaux, la chambre avec la vue sur les jardins invite à la rêverie. C'est une véritable évasion. Merci pour l'accueil très chaleureux, nous reviendrons avec grand plaisir lors d'une prochaine saison !
Diane, Barry, Florence et Juliette
Juin 2020,
Comme l'amour d'une vie, celui qui ne ressemble à aucun autre, le château d'une vie suspend le temps et vous fait voyager dans sa propre dimension, forte de souvenirs, d'histoire(s) et de frissons. Un énorme merci à Denis et Henry-Louis pour leur accueil, leur gentillesse et leur générosité. Le seul fantôme de ce château est l'extraordinaire tendresse du temps qui passe, l'on pourrait presque le voir danser en souriant devant les peintures immobiles.
Franck et Clara
Janvier 2020,
Encore une année commencée au Château de Canisy…Merci pour votre accueil si chaleureux et généreux. Santé et heureuse année 2020!
Livre d'Or : 2019
Décembre 2019,
Thank you so much for the most fantastic afternoon. Such a personal experience and a wonderful team to speak to! We cannot wait to come back soon!
Tula, Vanessa and Daniel. London, UK.
A wow in every room, loved it.
Vivienne Dangy
Décembre 2019,
Un très grand merci à Marie-Christine et Denis de Kergorlay pour leur accueil au château dans le cadre du shooting du Tricots Saint James, ainsi qui à toute l'équipe du château pour leur aide et leur disponibilité.
Arnaud Digard
Décembre 2019,
Merci définitivement pour votre accueil, le repas était délicieux.
Gallare, Les Tricots Saint James.
Octobre 2019,
What a fantastic experience ! Loved the Chateau and Gardens. Staff were lovely.
Dave and Bev Gallienne
Gernsey, Channel Islands
Octobre 2019
We had a great time and a unique experience!!! The service was fantastic!! A la prochaine!!!
Kambanis Family from Greece
Octobre 2019,
Thank you for opening your home to us so that we could experience chateau life. A lovely home and beautiful meeting.
Kate Jurewicz
Octobre 2019,
My favorite place on our entire trip! A dream come true!
John Brandon and Jerri Durbin, Air Journey Africa Group
Octobre 2019,
Thanks for a great stay !
Curt and Robin Baney
Bend, Oregon, USA
Octobre 2019,
The perfect culmination to our amazing journey around Africa. Chateau de Canisy is a stand still in time, filled with unbelivable history, a familial feel and intimacy. Thank you to Patrick and the team and for the special visit of Count kergorlay – we can't wait to come back! If only these walls could talk!
The Air Journey Africa Group
Octobre 2019,
Quel merveilleux château ! Le calme, la beauté du parc, une cuisine délicieuse en font une étape des plus agréables !
Brigitte, Air Journey Africa Group
Octobre 2019,
Thank you for a wonderful visit to your beautiful chateau.It mede me feel like a little girl wondering through the walls and all the diffrent rooms. A wonderful way to relax before going home after over 50 days of travel. We hope to see you again one day.
John and Carle Edwards, Part of Air Journey Travels
Octobre 2019,
Dear Count and Countess,
Thank you for letting us share your exquisite home with all the outstanding tapestries, porcelain and furniture and treasures. Everything was excellent, our dinner on our first night was top quality and the staff very caring and attentive. Wish you were nearer our home so we could come more often and enjoy the surroundings. Best wishes from my son and myself. Thank you.
John Fox
Octobre 2019,
Enfin retournée dans « mon » château de rêve ! Merci beaucoup pour ces deux jours magnifiques. On était bien gâtées ! A bientôt, pour se régaler encore une fois de cette sérénité !
Claudia
From Vienna
Octobre 2019,
I'm so happy that Claudia decided to come back to this impressive chateau where she stayed a month with your family many, many years ago. No wonder that she became a half, lovely « french » lady. Your staff was so kind, dinners were outstanding. Needless to say that I hope to return once more. Merci beaucoup !
F. Romswinck
Septembre 2019,
Wonderful time here! Looking forward to returning.
Lee and Becky Rottmann
From St Louis, USA
Septembre 2019,
Merci à tous. Une nuit de spectacle. Notre dîner était merveilleux. Merci Evelyne et Brigitte. Vous êtes très gentilles.
Eva Bander
Septembre 2019,
C'était magnifique 2 jours au château ! We really enjoyed our stay here. Merci pour tout !
Family of three, Yura, Jaehyung, Raul
From Seoul, South Korea
Septembre 2019,
Thank you very much for the hospitality. What a beautiful château (Castle for Olga Krueger). The hospitality was wonderful and the grounds were enchanting ! Loved finding peace and serenity !
George and Elizabeth Babitsch
From Kinnelon, NJ, USA
Septembre 2019,
What a beautiful place. Thank you so much for everything. An experience of a lifetime.
John and Dorothy Waybrant
From La Quinta, CA, USA
8 Septembre 2019,
Happily returned to the chateau after twenty years ! We came on our honeymoon in 2000 ! I hope we come back before another twenty years goes by ! The chateau looks great, great staff ! Thank you
Andrea and Eric Atno
From San Diego, CA, USA
6 Septembre 2019,
Merci, merci, merci ! We have had a wonderful visit and enjoyed the beauty and history of this château. We hope to bring a few friends here later this year. The kindness of the staff and their beautiful personalities was as lovely as this home. God bless you all !
Bill, Susan and Joanmarie Nimmer
From Bluffton, SC, USA/
24 Août 2019,
Merci beaucoup, we enjoyed very much your hospitality and the wonderful location. The castle is amazing as well as your kindness and special care ! Thank you to everybody !
Francesca Gandolfo
From Turin, Italy
22 Août 2019,
Thank you for all the great hospitality ! We cherished our stay, dinner, and the grounds. Everyone was so nice ! Merci
Daniel Stefanus
14 Août 2019,
Merci pour un séjour agréable dans votre magnifique château et le tour du château.
Stephen Pollock-Hill
13 Août 2019,
Merci Marie-Christine, Denis, Marie-Victoire, Théodore, pour ce merveilleux séjour en famille, amis, personnel, dans ce lieu chargé d'histoire, contée en beauté artistique, culturelle uniques. Par leur attention à chacun, et partage de paix joyeuse.
Suzanne de Percin
7 Août 2019,
3 jours exceptionnels dans un cadre magnifique. Merci de nous avoir permis de rêver les yeux ouverts.
Franck et Jeanne Patillot
7 Août 2019,
Thank you so much for a wonderful and memorable experience. Our family loved the atmosphere, the rooms, the hospitality, and the incredible dinner. We are here for a family reunion and to tour de Normandy for the 75th anniversary. Your chateau made an reunion and adventure, a never forgettable experience. Thank you so much.
Agence DIGNGO
The Nussbaums USA – California
– Colorado ( Denver)
– New-York
2 Juillet 2019,
A beautiful château. I feel very fortunate to have been able to experience a stay here with such charming hosts.
Michael Mowlen, London, UK
2 Juillet 2019,
A wonderful place and exceptionnal hosts.
What a stunning loation for such a special event ! It was a privilege to be welcomed into you home to host our first family office Space Symposium. The inspirational surroundings were the perfect setting for our discussion on how to use space technology to help preserve the Earth. I'm sure this visit will live long in the memories of all who attended. Thank you again for your wonderful hospitality.
The New Space Investment Symposium
2 Juillet 2019,
Félicitations et merci à tous ceux qui ont contribué à garder votre patrimoine en Europe. Séjour inoubliable. A bientôt aux îles grecques ou l'île de France.
Nicolas A. Vernicos
30 Juin 2019,
We had a wonderful visit ! This is a beautiful place and we hope to return someday.
The Thrash Family, FL, USA
26 Juin 2019,
Thank you so much for the wonderful experience of staying in a beautiful French château. We were honored by the Count's presence and personal stories. It was magical.
Jamie and Jim Carsley, Lublock, Texas
24 Juin 2019,
Merci, merci, merci ! We adored our visit ! Thank you so much !
Cavalry Chapel High School, CA, USA
24 Juin 2019,
Fabulous and wondeful. Thank you !
Whitney Hammoral, Toronto
20 Juin 2019,
We will Always remember the impressive display of tradition at Château de Canisyand thankfully enjoyed to be guests in this peaceful and magnificent site. Thank you for the warm welcome and kind hospitality.
Daniela and Claus D Gerhart, Randolf an Allegra
20 Juin 2019,
A wonderful stay – a wonderful place ! Thank you Lili for your wonderful attention and service !
Gunilla and Johan Ungen, Sweden
18 Juin 2019,
We truly enjoyed our stay here. It was a perfect way to end our family vacation in France. The staff was very welcoming and we enjoyed our private dinner and tour at the château. Thank you and we hope to be back one day.
The Shivers family, Florida, USA
16 Juin 2019,
Family vacations are Something we all treasure. This year's vacation is beyond words thanks to the staff. Everyone made this trip so very memorable and showed the love only a family can give. From our family to yours – thank you ! Love,
Mark and Maria, New York
16 Juin 2019,
Our family has had an amazing time here a the château de Canisy. The staff was beyond amazing and made our trip more wonderful thn we could imagine ! Thank you for a great few days !
Ted, Jenn, Alexa, Marina Brown, Texas
15 Juin 2019,
We've had an amazing few days here at this wonderful château. Many thanks to everyone who have made our stay so memorable.
The M'Coulls
9 Juin 2019,
We spent here very nice holiday – D-Day holiday ! Thanks for all the staff for the hospitality. We are very sorry for the late come back and dinner but there are here so many interesting places. For sure come back here.
Lytel / Liberelc family
8 Juin 2019,
What a wonderful way to share the 75th Anniversary with so many new friends. After visiting Canisy for the past 20 years, I feel so at home. My heart and soul belong to this beautiful château and the people of France. Cherish each day and stay here, the memories are everlasting. To Denis and Marie-Christine, thank you for letting me share with you your family estate. I will look forward to the next time. Fondly,
Frances
8 Juin 2019,
We have so enjoyed your gracious hospitality and warmth. We have learned so much about your family history. We hope you will visit us in Arizona. We carry you in our hearts !
Jeff and Dee Trent
7 Juin 2019,
Thanks very much for your hospitality, and warm reception during our stay ! The château was a perfect spot to enjoy the special remembrance of the 75th Anniversary of D-Day ! We will return to enjoy it again.
Gen USAF, 28th Chief National Guard
7 Juin 2019,
Mille remerciements d'avoir fourni refuge à un Colonel de l'Armée de Terre (USMA 65) et de la Marine Américaine un capitaine de vaisseau et sa fille (Princeton NROTC 72). A continuer et à la prochaine.
H. Conway Zeigler, USN (retiré)
7 Juin 2019,
Thank you so much for a lovely dinner !
National Army Association of the United States.
7 Juin 2019,
Merci pour tout !
Fraces Sherr-Davino
7 Juin 2019,
Enchanting ! We so enjoyed our stay with you and so appreciate your warm hospitality ! We look forward to seeing you next year my friends. With our best wishes !
Marilee and Bill Luehrs
3 Juin 2019,
A beautiful place to have lunch and looking forward to returning for dinner later this week. Thank you so much for your hospitality.
Bill and Kathy Prazenica (son and daughter-in-law of Abbat Prazenica, 29th Division)
3 Juin 2019,
Thank you again for your hopitality. Magnifique ! Merci beaucoup !
Captain Rob Walker's daughter,29th D-Day Veteran, Kathleen and Karl Newman
3 Juin 2019,
We enjoyed your lovely château after our visit to Utah Beach. What a great experience to be a small part of a 1000 year life.
John Dragisk
3 Juin 2019,
Such pleasure ! Loved the delicious lunch and atmosphere.
Karen and Leopold Sher
3 Juin 2019,
Magnificent château , atmosphere and life !
Tom Willoughby
3 Juin 2019,
What a beautiful pleasure to return for a wonderful welcome at the magnificent château. I will never forget the hospitality and welcome and delicious meal. Thank you for your kindness.
Rita Baumgarten (wife of D-Day 1944 veteran Hal Baumgarten)
3 Juin 2019,
Thank you for sharing your lovely château with the 29ers families in Normandy. We appreciated the delicious meal and the excellent hospitality. Best regards,
Bonnie Baumgarten Friedman
3 Juin 2019,
Merci for your hospitality and support to families of the 29th div who landed on June 6, 1944.
Bob Finn, Depsec, MD Dept of Veterans Affairs
3 Juin 2019,
Merci for your gracious hospitality.
Denise Nove, MD, USA
2 Juin 2019,
Thank you very much for a wonderful visit.
Hugh Willoughby
2 Juin 2019,
Very many thanks for our lovely visit. We were very sorry not to meet you but Sophie looked after us very well.
Michael and Lucy Middleton
2 Juin 2019,
Nous vous remercions pour encore un weekend mémorable. Très cordialement,
Martine, Charlotte et Matilda Harthon Taylor, Berkshire, UK
2 Juin 2019,
Thank you for welcoming us to the Château de Canisy. We have had the most wonderful stay which was particularly memorable as we marked the 75th Anniversary of James Marshall Cornwall's death in the liberation of the village of Cahaignes. You made us so welcome and we thoroughly enjoyed our visit. Thank you.
James, Cara, Tom, Fiona and Rupert Willoughby, New Yorkshire, UK
28 Mai 2019,
The chateau de canisy is fabulous and we so appreciate your wonderful hospitality. We really enjoyed walking the beautiful grounds, as well as the excellent meals. All of the staff are so accommodating and have been most welcoming. Thank you for a memorable experience and we hope to return in the near future.
With all best wishes,
the Sadler family
23 Mai 2019,
Thank you for opening up your home to share. We had an amazing experience that we'll never forget !
Cole and Kyle Matson
From Provo, Utah
21 Mai 2019,
Merci pour un temps extraordinaire. Nous avons beaucoup apprécié votre beau château. Votre équipe est si gentille si très douée. Félicitations sur votre expérience que vous donnez aux gens.
Mr and Mrs Probisa
From Provo, Utah
21 Mai 2019,
Thank you for a lovely time here at chateau de canisy! We enjoyed the grandeur peace, and quiet! We loved the birds chirping, the mist that made everything magical, and the delicious food. The staff was helpful, cheerful – delightful ! Thank you for opening your historical family home to us. We would never have had an experience like this otherwise.
Jeff and Karen Acersons
From Lindon, Utah
21 Mai 2019,
This was a dream come true! Everything was perfect!!
Karen and Aleen Axleton
From Orem, Utah
18 Mai 2019,
Such an amazing place to stay while wandering the countryside, learning about D-Day from the experg, Tom Hatfield
Sallie and Rod Rinderknecdt
From Park City, Utah
18 Mai 2019,
A wonderful stay at a magical, historical setting. Merci.
M Martin, Hatfield group
18 Mai 2019,
From Texas we came to learn about the « Great Crusade » to restore and protect the Liberty pf peoples of Europe and America. And we also found the Château de Canisy, a place of grace, beauty and hospitality. Merci beaucoup à les Kergorlay. Vive la France ! SVP y'all come to Texas, the flag of Frnce was once ours too.
Bill and Cecilia Deaton
18 Mai 2019,
Thank you. An experience of a lifetime. Delightful !
Mr and Mrs Ramsey from Austin, Texas
18 Mai 2019,
À mon amis Denis de KERGORLAY for more then twenty years you have been a generous host and thoughtful friend during my visit to the Château de Canisy. With profound gratitude I will remember you, Marie-Christine and the splendid staff of the Château – my home away from home in Normandy. I thank you most especially for your visits to Austin, Texas for occasions that were especially important to me.
Ever your friend,
Thomas M. Hatfield
13 Mai 2019,
Your château is amazing. We are so enjoyed learning the history and Lily and Huiyu were excellent.
What a wonderful château and hostresses! Magnificent place! What a beautiful home! Lily and Huiyu were outstanding and accomodated our every need! Merci!!!
Patrica Remmert & Michael Schmerbeck
3 Mai 2019,
Magical place! So lucky to be Evelyne and Brigitte served wonderful diner! We hope to come again! Merci!.
This château is the most wonderful place! Evelyne and Brigitte are wonderful and lovely. ..
James Duffell and his wife
1er Mai 2019,
We had great time during our stay, we were so happy about food as well. Thanks to Evelyne and Brigitte, as well as all the staffs. When we come back to Normandie the next time we will stay here again.
We loved this château so much.
Gullo Marcelo