During the 18th century, Alain Marie de Kergorlay had two sons, Louis Gabriel and Florian, father of the founding branch of Kergorlay in Picardy.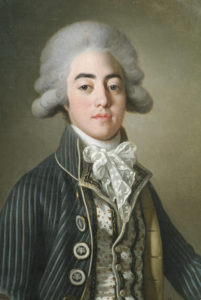 Louis Gabriel de Kergorlay
Louis Gabriel marries Justine de Faudoas, daughter of the Marquis de Faudoas, owner of the Chateau de Canisy at the time. They married in Paris in attendance of King Louis XVI and Marie Antoinette, of whom Justine de Faudoas was one of her friends. Louis Gabriel de Kergorlay was an officer in the French army.
Towards the end of the Terror as the young couple roamed Europe, the Marquis de Faudoas, Eleonore de Faudoas (sister of Justine) and probably an aunt, were arrested at Canisy and guillotined in Paris a few days later.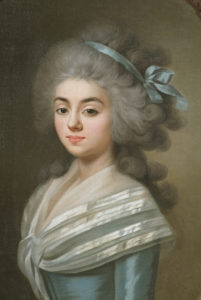 Justine de Faudoas
One of Louis Gabriel de Kergorlay' sons, Hervé, took over the castle in 1830 and was at the origin of what it is today. He devoted his whole life to the beautification of the castle and his domain.